About
An electric, cosmopolitan metropolis, Bangkok is home to a large ecumenical medley of faiths, both Eastern and Western. Yet with only a few hundred Jewish families residing in Bangkok permanently, Judaism may appear to be on the periphery of religious life in the city. Not so. Jewish life is alive and well, its vibrancy making the Thai capital a regional centre for Judaism. Jewish presence in Thailand stretches back to at least the early 17th century, and in recent decades the Jewish Association of Thailand has been instrumental in helping resident Jews maintain their distinct identity in Bangkok.
Three sizeable synagogues are in operation across the city, catering to the daily spiritual needs of local and visiting Jews alike. Prayer services take place regularly at the various locations; a kosher restaurant located on the backpacker center of Khao San Road offers a broad range of delectable fares; and kosher foodstuffs produced locally and imported from Israel and the United States are also available.
The Jewish community of Bangkok also has an exciting events calendar, including recreational activities such as occasional tournaments of the Jewish Bowling League.
The Jewish Association of Thailand welcomes all Jewish visitors to the kingdom, regardless of nationality or affiliation. Please feel free to contact and visit us.
Contact | Become a member of JAT
Jewish Association of Thailand 
The JAT has a membership of almost 200 local residents but we host thousands of visitors from all over the globe every year.  Besides families that have lived here for generations our community members come mainly from the United States, Israel, and Europe.
The Jewish Association of Thailand is located at Beit Elisheva Community Center.  
There are many hotels of various price ranges in walking distance of the synagogue. The Rabbi and Board of the Jewish Association invite any Jewish visitor or resident to attend our prayer services, and meet members of our Community.   For both residents who are new to Thailand or who have lived here for a while, we welcome you and hope you will see the JAT as your home away from home.  We also invite you join the J.A.T. and register to receive Rabbi Kantor's weekly email message which containt explanations of the weekly Torah portion and announcements of community events.
Thailand, a country 95% Buddhist, has always been known for its hospitality and religious tolerance.  It is therefore not really surprising to discover a small but thriving Jewish community in this beautiful land of smiles.   In spite of our miniscule numbers, Jews have contributed greatly to the economy and cultural life of Thailand.   We have a history here that is surprising.  The earliest mention of any Jewish presence in Siam dates from 1601 when Spanish missionaries reported on Jewish merchants who lived in the Kingdom of Ayuthaya where they maintained a synagogue and were "zealous in the Law of Moses".   In 1683 the first known Jew here, Abraham Navarro, an interpreter for the English East India Company, visited the Court of King Narai in Lopburi.  During the early 19th century we have several reports of visiting Jewish merchants in Bangkok.  But it was not until around 1890 that a few Eastern European Jewish families settled in the country.  The most prominent of these early families were the Rosenbergs who established one of the first modern hotels in Bangkok.   After World War I several Russian Jews settled here including Haim Gerson, who founded a very successful business and was the leader of the Jewish community for many decades.
In the 1930's about 120 German Jewish refugees including a number of physicians were admitted to Thailand with the help of local Jewish residents in spite of protests by the German Embassy.  During World War 2 several Syrian and Lebanese Jews settled in Bangkok and established businesses especially in textiles.  One of these Syrian Jews, Isaac Djemal was especially prominent in business and later served as President of the Jewish community.  His nephew, Selim Eubhani served as lay leader conducting religious services for our small community for many years.  During the war years some Jews in Bangkok were interned by the Japanese as enemy aliens.  There were also at least 150 Allied Jewish soldiers in the notorious Japanese POW camp in Kanchanburi.  Among the prisoners was a rabbi who held services in a makeshift synagogue in the camp.  During the 1950's, several American Jews settled in Thailand and joined the community.  These were joined by arrivals from Iraq, Afghanistan and Iran.
In 1964 the Jewish Community of Thailand (known as the JAT) was formally established.  During the 1960s the Vietnam War brought hundreds of American Jewish servicemen to Thailand.  It was during this time that the Community established a religious school, a sisterhood and regularly scheduled religious and social events.  For the first time the community had Rabbis through the services of the American military chaplains.  By the early 1970's many Israelis began to visit Thailand  especially young backpackers.  Several Israelis established businesses here in Bangkok 
During the 1970's a small Sephardic congregation (Even Chen) was established.  In 1979 Elizabeth Rosenberg Zerner, the Thai-born daughter of the first Jewish family in the country donated a parcel of land and a residence for the synagogue.  To honor Elizabeth Zerner, the Association's synagogue was named Beth Elisheva.  During the community presidency of a prominent local businessman, Mr. Ebrahim Kashani, our synagogue was remodeled and the first Jewish cemetery consecrated.
In 1993 Rabbi Yosef Chaim Kantor, accompanied by his wife Nechama Dina, and baby daughter, arrived in Bangkok to serve as our Community Rabbi.    Due to Rabbi Kantor's inspiring leadership, the Jewish Community now enjoys regular Shabbat and holiday prayer services, kashrut facilities and an educational program
Compiled by Mr. Stephen Mallinger
Chabad of Thailand
Chabad of Thailand 
Jewish Unity and Caring
View our color brochure HERE
Chabad of Thailand was founded in 1993 with the guidance and blessing of the Lubavitcher Rebbe. Its sole purpose is to "love every Jew, help every Jew, bring every Jew closer to his/her Jewishness" by providing spiritual, material and social support for all Jews regardless of their origin, affiliation or degree of observance. This creates an atmosphere of unity, which transcends all differences/levels of observance and guarantees Jewish continuity.
Chabad has maintained a presence in Thailand since May 1993, when Rabbi Yosef Kantor accepted an invitation by the Jewish Community of Thailand, to take up a permanent posting in the city. Today, Kantor is Thailand's Chief Rabbi.
The Rebbe taught his followers that no matter what remote part of the world a Jew finds himself, he should be able to visit a welcoming haven to meet, socialize and pray with his fellow Jews. To that end, Chabad operates a vast and growing global network of outreach centers, which number in the thousands and can be found from Colombia to Kazakhstan, from Alaska to Timbuktu. Thailand and Bangkok are no exception. Chabad of Thailand is overseeing an ever-expanding range of Jewish activities in Bangkok and across Thailand.
With G‑d's infinite blessings and the generous support and involvement of concerned Jews, Chabad of Thailand has grown rapidly during the years since its founding. We have initiated educational and social programs that cater to both the local Jewish community and to the significant population of visitors, both on business and on leisure.
Currently, seven Chabad rabbis and several rabbinical students on internships are on hand to assist both residents and transients in all their Jewish needs and wants. Besides answering to the social and spiritual requirements of a small but vibrant local Jewish community, Chabad of Thailand provides visiting Jews with a home away from home and with sanctuaries of authentic Jewish spirituality.
Our Summer camp, Day school and Hebrew school programs are warmly received by the local Jewish community as being critical to the development and strengthening of Jewish faith and pride amongst our youth.
Chabad's staff of Rabbi's provides Rabbinic leadership, kosher food and other religious requirements to the local Jewish community, as well as the visiting Jews.
More than one hundred thousand Israeli citizens pass through Thailand each year as well as thousands of Jews of other nationalities. While traveling, these Jews are receptive to exploring their roots. It was for this reason that Chabad of Thailand established special Centers in Bangkok, Chiang Mai and Koh Samui that provide a "home away from home" for these "backpackers". The Shluchim welcome these travelers offering them assistance, guidance, a listening ear and are skilled at providing a powerful and memorable Jewish experience.
Shabbat and Holiday programs are attended by several hundred weekly. The Kosher Restaurants that are maintained on site are priced to be affordable even for a budget traveler. They are a popular venue for Jews of all backgrounds. Public Pessach Sedarim are held for thousands of Jews. Rosh Hashana & Yom Kippur are celebrated with thousands attending the prayer services and festive meals.
Chabad of Thailand has found the formula to develop a rapport with thousands of Jews from a myriad of backgrounds, thus enhancing their outlook and assisting them on a path to appreciate their roots and identify with their Judaism and Jewish brethren in a spirit of love and caring with a new-found pride.
Chabad of Thailand relies on support from locals, travelers and concerned Jews the world over. All contributions to Chabad of Thailand are used exclusively to support and enhance these programs. 
Chabad Of Thailand Video: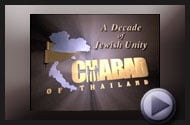 Chabad of Thailand sincerely welcome all Jewish visitors to the kingdom, regardless of nationality or affiliation. Please feel free to contact and visit us. Contact info
Click here for an overview of Chabad Lubavitch philosophy and worldwide activities